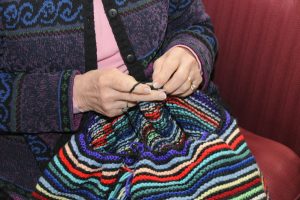 Prayer Shawl Ministry
Our Prayer Shawl Ministry makes shawls for those who are facing a life challenge.  They meet 1st and 3rd Thursday mornings, 10 am – Noon, September – May.  Knitters and crocheters of any skill level are welcome.  Contact Nancy Klein to request a shawl or to join the ministry.
New Member Care
Church members sponsor new members to ensure full connection into the life of the church.  Contact Rev. Amanda Bunce to serve as a sponsor.
Martha Ministry
Martha Ministers deliver meals, provide transportation, or assist with other small things that make a big difference for someone in temporary crisis.   Contact Marcia Nance to request assistance or to join the Martha Ministry team.
Shepherd's Helpers
Shepherd's Helpers provide handy work and home repairs services for church members needing assistance.  Contact Carneal Downey to request assistance or to join the team.
Bereavement
This team provides meals and/or a reception following the death of someone in our church family, working in conjunction with other groups in the church to offer ongoing support to a grieving family.  They serve as needed, about 12 – 15 times per year.  Contact Candi Scott to offer assistance.