HSP begins July 11!!
Please be in prayer for our youth and adults working this week.
HSP Potluck
All are invited to join us for food and fellowship on Thursday, July 15, at 6:30 PM in the parking lot at Highland UMC. Please bring food to share and come to hear about the good work done in partnership with Sleep in Heavenly Peace.
HSP x SHP
1 Peter 4:10 "Each one should use whatever gift he/she has received to serve others, faithfully administering God's grace in its various forms."
This year Highland United Methodist Church's Highland Service Project is based at Highland constructing beds for children in our area in partnership with Sleep in Heavenly Peace (SHP), continuing our commitment to service in our community. Our goal is to build 30 bunk beds!
Sleep in Heavenly Peace is an organization that specializes in building beds for children in our area who are without beds. This fantastic ministry provides the lumber, tools, supervision of construction, mattresses and box springs, and delivers the beds to the families that are in need. You can read and watch all about the process by clicking 
HERE. 
When: July 12-16 (partial day on 7/16)
HSP Youth and Core Volunteer Kick-off will be July 11, 5:00 to 7:00
Times: 8:00 to 5:30/6. M-T
Where: Highland UMC – outdoors, using our parking lot and larger campus
Who: Youth ages 12 & older, adults of all ages and abilities
Sign your youth up! Registration ends on 6/15/2021
How can you help? 
Volunteer
Adult volunteers can sign up for as many shifts as they are able.  These days are broken up into shifts. You can work three hours one day or all four days fully.
We are in desperate need of adult volunteers to fill out these spots for the week.
HSP 2021 Adult Shift Sign-up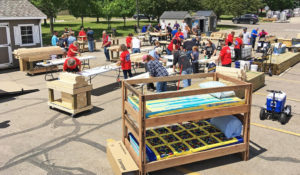 Is it hard manual labor? Will you need experience?
No. All work being done will be tasks that require very little training and following instructions on the bed building and delivering. This is a church-wide service project and the whole church family is welcome to participate, ages 12 and up.
From HSP Camp tasks to SHP building beds or delivering beds, there is a job for everyone of any age.
Give – Sponsor a Bunk Bed
You can team up with a Sunday school class, other members of highland, families, friends, anything. Each bunk bed is $400. This includes all costs from lumber to mattresses to sheets. Your gifts will immediately change the life of a child in our area. Help us reach our target of 30 bunk beds for our week-long build (yes, $12,000)! 
Sponsor a Bed – Giving Online
2) Enter the gift amount
3) Select "Highland Service Project" Fund
4) In the memo put "Bed Build"
You can also write a check and drop it off in the Church office. Make the check out to Highland United Methodist Church and put in the memo "HSP Bed Build".
Can I do both – volunteer & give?
Yes, please!
I pray that you find a way to serve and participate in any way you can for Highland Service Project 2021. We need all hands on deck for this and we would love your support!